I've been looking for the perfect au gratin potatoes recipe. I haven't found one yet that is like the Betty Crocker boxed ones, but with "real" ingredients.
These au gratins are not Betty, but to quote Pee Wee, I love them so much I could marry them! (Mr. DOA understands though he didn't like them so much).
http://12tomatoes.com/2014/09/creamy--cheesy-side-dish-potatoes-au-gratin.html
There's a link to the recipe. And their picture looks better. I was in a hurry to get dinner on the table...
Creamy & Cheesy Side Dish: Potatoes Au Gratin from Twelve Tomatoes

It's hard to go wrong with potatoes, but if you're a worrier, take a deep breath because this dish is always a winner! You don't have to spend ages (getting tennis elbow) making the perfectly mashed potatoes, all you have to do is make the sauce and pop these tots in the oven. This dish is perfect for family or holiday dinners—just be prepared for the requests that will come rolling in for you to make this dish for all upcoming celebrations!
Potato Gratin
(Serves 6-8)
Ingredients
3 tablespoons butter, plus butter for greasing baking dish
1 clove garlic, halved
6 medium potatoes, peeled and sliced (about 5 cups)
1 1/2 cup heavy cream
1 cup Gruyere, grated
1 cup Parmigiano Reggiano, finely grated
1 cup low-sodium chicken stock
3 tablespoons flour
1 teaspoon nutmeg
salt and freshly ground pepper, to taste
Directions
Preheat oven to 375º F and grease baking dish with butter. Take halved garlic and rub it around the baking dish.
In a large saucepan, melt your butter and add in flour, nutmeg, salt and pepper. You should have a paste-like sauce.
Slowly pour in heavy cream and chicken stock. Bring to a boil then reduce to a simmer. Take off heat and stir in Gruyere until melted.
Arrange potatoes in layers in your baking dish, adding salt and pepper between layers. Pour sauce over the potatoes so that they're evenly covered. Sprinkle Parmesan over the top.
Place in oven and bake for 45-60 minutes, or until potatoes are tender and the top is golden and crispy.
Recipe adapted from
Alexandra Cooks
I tried a Maple Brown Sugar Crockpot Ham, recipe below. I don't think mine was from Mel's Kitchen though the ingredients are identical. I detected no Maple or Brown Sugar taste at all.
http://www.melskitchencafe.com/slow-cooker-maple-brown-sugar-ham/
I can sum up this post simply by saying I'll never make ham another way again. In the past, I've always baked it in the oven according to package directions, occasionally using the sugary glaze that comes with the ham and sometimes not. This time I decided to use a recipe I saw on a
Year of Crockpotting
. It was fantastic. Really fantastic. The ham was more flavorful than any ham I've ever made before and the flavors were so perfect – maple, brown sugar and pineapple. Delicious – not to mention
super simple
. The only change I will make next time is to significantly reduce the amount of time in the slow cooker. My ham was slightly overdone after cooking for 7 hours and next time I'll only cook it for 4-5 hours on low. Regardless, it was phenomenal and got rave reviews from the fam – definitely my new go-to way to make me some ham.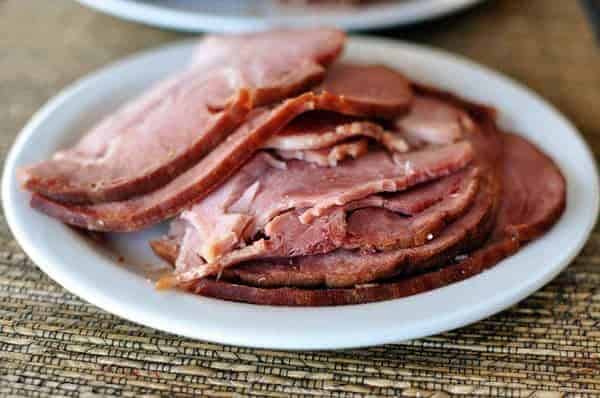 Tender biscuits like these
Buttermilk Biscuits
or
Cream Biscuits
Homemade Baked Tater Tots
Classic Deviled Eggs
Slow Cooker Maple Brown Sugar Ham
Ingredients
7-8 pound spiral-cut ham (bone-in or boneless)
1 cup dark brown sugar
1/2 cup pure maple syrup
2 cups pineapple juice
Directions
Use a 6-7 quart slow cooker. Unwrap the ham and discard flavor packet. Place the ham into the slow cooker stoneware, flat-side down. Rub brown sugar on all sides. Pour on maple syrup and pineapple juice.
Cover and cook on low for 4-5 hours. An hour before serving, baste ham with the collected juices from the bottom of the slow cooker. When cooking is done, remove carefully and let it rest on a cutting board for 10 minutes before carving.
http://www.melskitchencafe.com/slow-cooker-maple-brown-sugar-ham/
Printed from Mel\'s Kitchen Cafe (www.melskitchencafe.com)
Recipe Source:
adapted from Year of Crockpotting
Just some Niblets Brand corn to round things out.